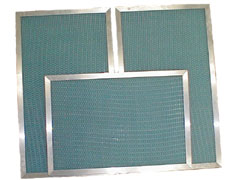 We sell AirQC® ELECTROSTATIC
Air Filters.
ELECTROSTATIC Air Filters:
Remove up to 95% of the airborne dust and breathable contaminants inside your home.

Trap most of the disease and allergy-causing pollutants in the air that you breathe including: mold, pet hair, plant spores, fabric lint, pollen, smoke, dust, aerosol sprays, bacteria, and mites; and a variety of airborne fibers including fiberglass and asbestos.

Increase heating and cooling efficiency.

Have virtually permanent filter construction.

Are less expensive – more effective than paper filters.

Are easy to clean – just hose off, dry, and reinstall.

Have continuous static charge by air friction.

Have lifetime manufacturer's warranty.